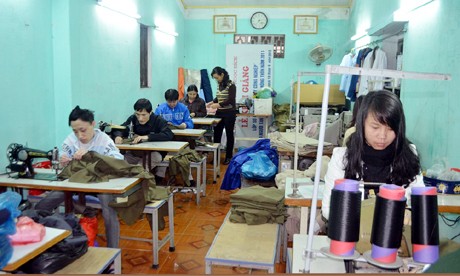 Workers with disabilities at Ngoc Bich Garments Company in Ha Long City. (Photo: baoquangninh.com.vn)

Vietnam has 7 million people with disabilities, 7% of the population. More than 2.4 million of them are social welfare beneficiaries and receive a total of 308 million USD. Medical and healthcare support programs, vocational training, and job generation have greatly improved the lives of the disabled.
Persons with disabilities in rural areas are given free vocational training, financially supported for accommodation and travel, and matched with employment offers.
But Nguyen Thi Lan Anh, director of the Action to the Community Development Center, said that all these support efforts still face many difficulties.
"Some establishments offer inappropriate vocational training to the needs of people with disabilities. In these cases, the disabled can't apply what they learn in their localities. Another challenge is that the transport system is not convenient enough for handicapped people," she elaborated.
Nguyen Thi Duyen, a disabled woman who is attending a tailoring course in Hanoi, said she has applied to many companies but has been refused employment for various reasons.
"I learned embroidery and applied for a job at several facilities, but failed to get hired. The recruiters said they already had enough manpower and that embroidery doesn't need more workers. Some said I was unfit to do the job. That's the reason I decided to take a tailoring course," Duyen explained
Director Lan Anh said employment of the handicapped needs more support policies and more comprehensive measures.
She underscored the need to "make sure policies match the needs of workers with disabilities and are strictly enforced".
"Businesses should be more open and see it as a new potential market. Finally, the disabled themselves should look for opportunities despite their hardships," she added.
Ms. Lan Anh called for solutions to create a more favorable working environment for the disabled and increased communications to help the community understand that handicapped people can work like ordinary people if they have the right job.
Nguồn: vovworld.vn